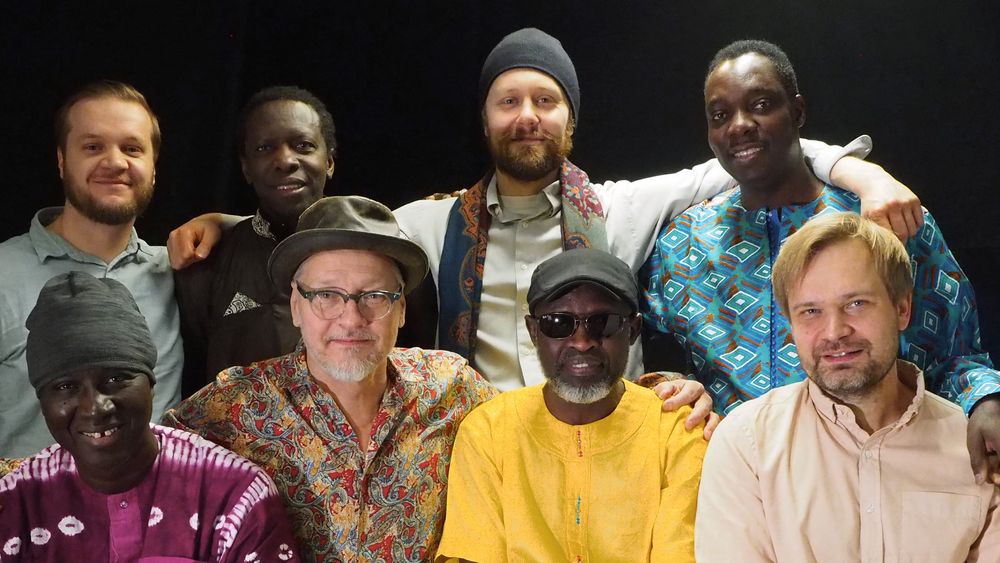 RAOUL BJÖRKENHEIM & YAMAR THIAM SENEGELECTRIC UNIVERSE
Raoul Björkenheim guitar, Mikko Innanen & Pauli Lyytinen saxophones, Jori Huhtala bass, Ilmari Heikinheimo drum set, Yamar Thiam tama, Pape Sarr, Libasse Sall & Ousseynou M'baye sabar drums
Senegelectric Universe brings together the powerful sound of Mbalax drumming with the free-flowing jazz energy of the Raoul Björkenheim Triad for a musical meeting in which cultural borders are crossed and new horizons discovered. The African roots of jazz can easily be heard in this collaboration, and African and Finnish musicians joyously interacting on stage make a vivid argument for human solidarity in these xenophobic times.
The Mbalax connection was already established in 1993, when Björkenheim's influential quartet Krakatau went into the YLE studio with these same Senegalese musicians to record a set of pieces which went on to be performed many times live during the following years. Triad now picks up where Krakatau left off, with new pieces and a fresh perspective.
Triad is the result of nearly a decade of Björkenheim's collaboration with the poly-directional drummer Ilmari Heikinheimo, initially as a duo then later as a trio. Jori Huhtala, the bassist familiar for his propulsive playing in Björkenheim's eCsTaSy, has recently joined the band. Adding now to the excitement are Mikko Innanen and Pauli Lyytinen, two of Finland's most cutting-edge players, introducing their saxophones and other wind instruments into the mix.
Yamar Thiam, Pape Sarr, Libasse Sall and Ousseynou M'Baye are part of the influential Mbalax group Galaxy, formed in 1992 and touring very actively during the following decades. The band was awarded the Suomi palkinto  in 2005, among other merits. They have also worked with Hasse Walli, Eero Koivistoinen and Seppo Kantonen.